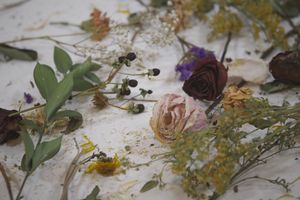 Annie Scherer merges her love of rock 'n roll classics with her passion for alternative music to produce her own unique sound. Her evocative lyrics and haunting melodies have been heard live from New York to Tennessee. 
In 2023, Annie was the runner-up in Lightning 100's Music City Mayhem competition in Nashville, which had 430+ entries. The finale included a performance at 3rd & Lindsley, where the five remaining artists battled it out live. First and second place were determined by voters and judges, including some of Nashville's top music industry members. Following the competition, Annie performed at annual festival series, Musician's Corner in Nashville.
Annie's single, "Everywhere I Go (Everybody's the Same)" earned her the #1 spot on aBreak Music, the number one music platform for independent artists, in August 2023. The song was aired internationally via iHeart Radio, and received press throughout the nation. 
 Annie released her first full-length album "Garden Bed" in March 2021. The album features previously released singles, "Andy Warhol," "Take Me Places," and "After Rain," along with six brand new tracks. Annie wrote and produced all the songs. Garden Bed showcases her skills as a composer and multi-instrumentalist, performing the trumpet, piano, guitar, and ukulele, while arranging string quartet scores for songs like "Kaleidoscope" and "Ashamed." The album was widely praised by American Songwriter, the Times Union in Albany, NY, and NYS Music. A month after its release, Annie was voted the best local musician in New York's Capital Region according to readers of the Times Union. 
In 2020, three of Annie's songs, including "Kaleidoscope," "After Rain," and "Roses and Lies"  received honorable mentions at the international and notable songwriting competition, SongDoor. "After Rain" was selected for special recognition.
Annie was awarded the 2018 Producer's Choice for the 'Celebration of Music' PBS special in Troy, NY, hosted by Ethan Bortnick. She won a trip to LA where she was taped performing "Andy Warhol."   
In January 2017, Annie's first EP, 'Dreams Like This' was released, and featured five original songs. That same year, Annie won the opportunity to sing the National Anthem for the Tri-City Valleycats, an affiliate of the Houston Astros. She also began her freshman year at the College of Saint Rose as a music industry major. There, she formed a band to back up her original music and has played at well-known venues such as The Hollow and The Low Beat.  
Annie's musical career began at age six, when she started classical piano lessons. She devoted 12 years to classical performance. At seven, she wrote her first song, a holiday tune that she sang for a two-person audience: her mom and music teacher. By age 12, Annie had taught herself guitar, and started gigging and writing more seriously. 
In addition to her musical aspirations, she is a visual artist and practices with charcoal portraits.